---
Shupatto and Cake Boxes
Shupatto Compact Tote is designed to have a wide opening. It allows you to fit in all your shoppings with ease.
Size M is the perfect size for carrying your cake, or anything similar that comes with a bulky, square box.
Daily Driver
The one to be kept in your daily handbag/backpack.
COMPACT YET CAPABLE
Compact Series is designed to be carried with you day in and day out.
When folded, it is smaller than the box of Panado. The compact design allow it to fit in almost any handbags or pockets.
When opened up, the unique shape is capable of holding up to 14.5L of your shopping items.
Customer Reviews
10/13/2020
I recommend this product
Fits a whole trolley load of kai!
Super impressed with my medium Shupatto bag. It fit a whole trolley load of kai in there!! So easy to open and close, fits in your handbag / glovebox. Don't forget it!
Claire V.
New Zealand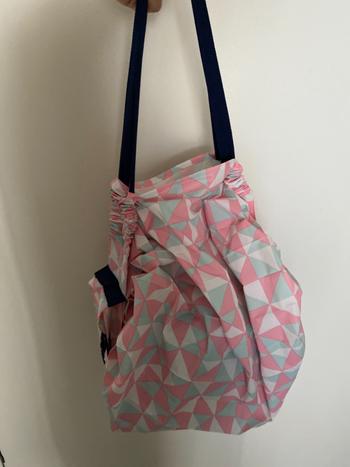 10/12/2020
I recommend this product
Great design
I love to use my Shuppato bag to package my groceries, quite easy and convenient!
YIOU C.
Australia
10/08/2020
I recommend this product
My new bag - large
I love this bag. It is very sturdy, and fits a lot of stuff in it and looks fantastic! I love that it rolls up easily.
emily d.
New Zealand
10/02/2020
I recommend this product
Awesome product and service
Fantastic service and product really recommend
Steve M.
New Zealand
09/03/2020
I recommend this product
Amazing Stuff!
-It's funny how something as banal as a reusable shopping bag could make one excited simply because it's so well thought through. Upon first impression, I was happy to find that the colours in real life are as pictured. The stitchings are pretty well done. But what made me most happy was the design! It's so compact and easy to use. The capacity is great given how small it started out to be. But mostly because it's so easy to fold back into its compact form.
CB
Cherie B.
New Zealand